Fanfic Awards 2015

Awarded for
Excellence in Television
Date
June 5, 2015
Venue
Nokia Theatre
Country
United States
Host
Mindy Kaling
Preshow Host
Lucy Hale
Jack Griffo
Reward
Fanfic Award
First Awarded
June 5, 2015
Television Coverage
Network(s)
Fanfic Channel
Runtime
120 minutes
Produced By
Axel Torres
Directed By
Aaron Moon
Fanfic Awards 2015 is the first annual awards ceremony held to commemorate the best in U.S. fictional television programming from June 2014 to May 2015. The ceremony will be held at the Nokia Theatre in Downtown Los Angeles, California on June 5, 2015 at 6pm. It will be broadcasted worldwide by Fanfic Channel on the same day at 9e/6p. It will be hosted by Mindy Kaling.
Categories
Edit
Programs Edit
Best Comedy Series
Best Sci-Fi Series
Best Teen Series
Best TV Series
Best New TV Series
Best TV Movie
Best TV Comedy Actor
Best TV Comedy Actress
Best TV Sci-Fi Actor
Best TV Sci-Fi Actress
Best TV Movie Actor
Best TV Movie Actress
Best Actor
Best Actress
Best Supporting Actor
Best Supporting Actress
Directing Edit
Performances
Edit
On January 5, 2015, Fanfic Channel announced that there will be a total of six musical performances in the awards show. R5 and Fifth Harmony have been confirmed to have a musical performance during the show. There will be four performances from Olivia Holt, Max Schneider, Christina Grimmie and 5SOS during the preshow, which will be hosted by A High School Rockstar's Jack Griffo and Secret Life's Lucy Hale.
Pre-show Performance Edit
Olivia Holt
Max Schneider
Christina Grimmie
5SOS
Main Show Performance Edit
R5
Fifth Harmony
Maroon 5
Austin Mahone
Ariana Grande, Jessie J & Nicki Minaj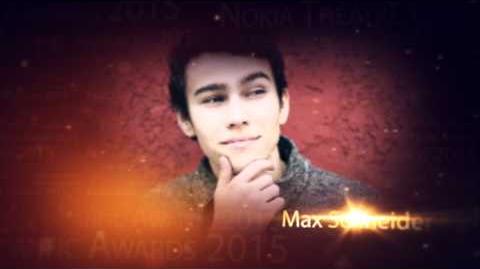 The Trailer was released on January 9, 2015, featuring the list of performances for its preshow and main show. The trailer also shows the host and preshow host for the event.
Nominees
Edit
The official list of nominees will be announced on January 12, 2015 during the premiere of The Amy Poehler Show, which will be announced by the celebrity guests of the show's episode. Voting will be opened immediately after The Amy Poehler Show.
Programs Edit
| Best Comedy Series | Best Sci-Fi Series |
| --- | --- |
| | |
| Best Teen Series | Best TV Series |
| | |
| Best New TV Series | Best TV Movie |
| | |
Voting opened on January 12, 2015. Voters are able to vote as many times as they want, until the voting ends on June 5, 2015.